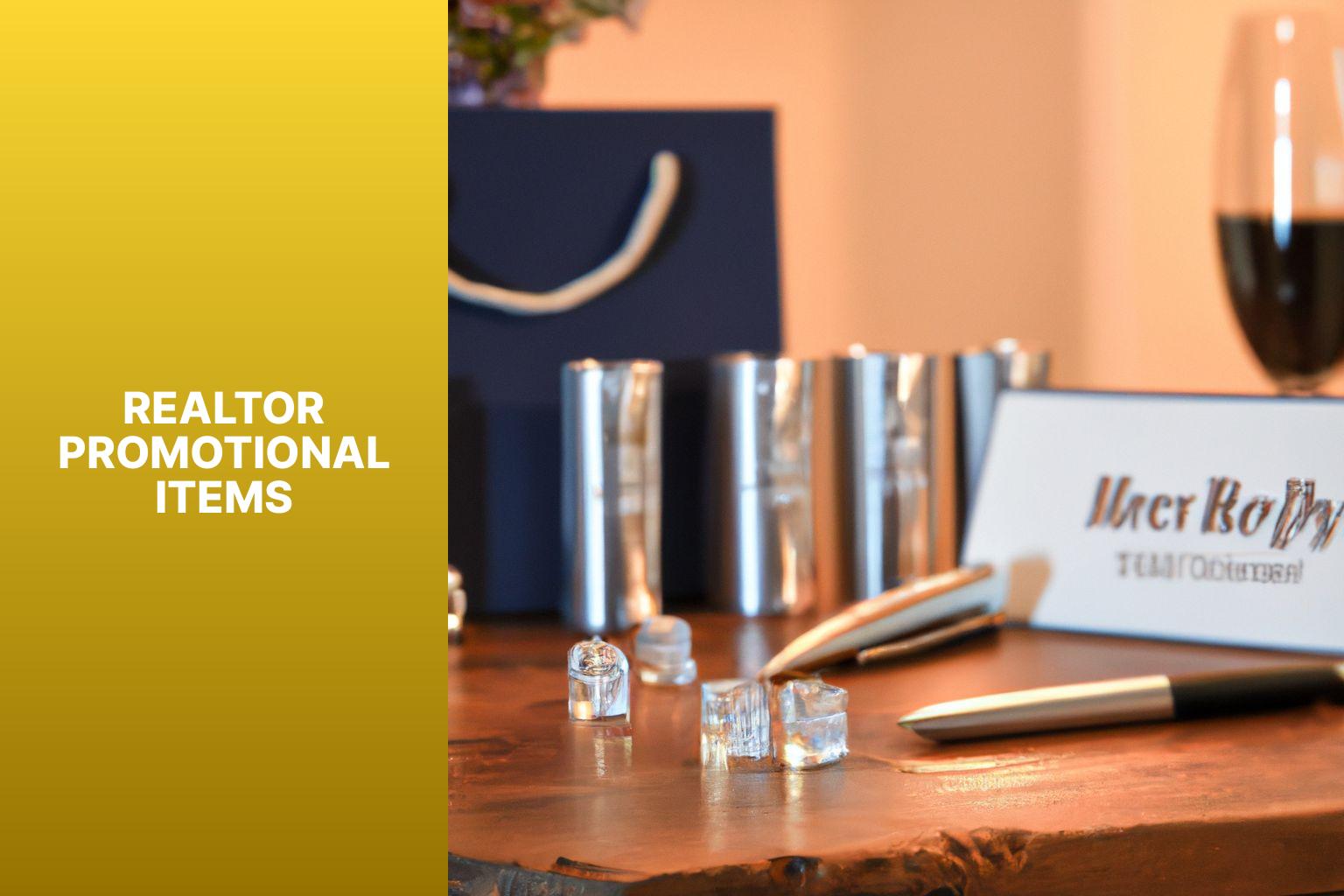 Table of Contents
Realtor Promotional Items Elevate Your Real Estate Game with Realtor Promotional Items! Unlock Doors to Success. Order Now & Seal the Deal!
Get Yours Today! #RealtorEssentials #HomeSelling is crucial in the real estate industry.
They act as powerful marketing tools to increase brand recognition and draw in potential clients. Realtors have a wide selection of items to choose from, such as branded pens, keychains, customized tote bags, and calendars. These items create a lasting impression on clients, while also providing reminders of the realtor's services.
Realtors must invest in high-quality promotional items to make a lasting impact on their target audience. These items keep the realtor's brand at the top of mind for potential clients. Realtors can use these items to demonstrate their professionalism and attention to detail.
Promotional items for realtors are very versatile. Realtors can personalize them with their contact info, logo, or even property listings. This gives them the ability to tailor their marketing efforts to their target audience and objectives. They can distribute branded pens at open houses or give away customized tote bags at community events.
To get the most out of promotional items, real estate agents must distribute them strategically. Offering these items during property tours or client meetings can create a memorable experience. Additionally, they can partner with local businesses or organizations to collaborate and extend their reach.
The Importance of Promotional Items for Realtors
Promotional items are essential for realtor success. They act as great tools to create more brand recognition and draw in potential customers. Here are 5 major benefits of using promotional items:
Raising Brand Visibility: Branded pens, notepads, or keychains can keep the realtor's name and contact info in front of customers on a daily basis.
Creating Lasting Impressions: Giving away useful and quality promotional items builds a good lasting impression on clients, increasing the chances of them choosing the realtor.
Generating Leads: By offering promotional items at open houses or networking events, realtors can capture leads and build their clientele.
Inexpensive Advertising: Compared to traditional marketing methods, promotional items are cost-effective and reach a larger audience.
Building Trust: By giving personalized promotional gifts, realtors show that they care about their clients, creating trust and long-term relationships.
Also, creativity is key when it comes to selecting promotional items. Realtors should select items that fit with their target audience's interests and needs. Whether it's eco-friendly totes for eco-conscious clients or tech gadgets for tech-savvy individuals, unique touches make all the difference.
For realtors to maximize the use of promotional items, these tips should be considered:
Customization: Personalize each item with the realtor's logo and contact details for maximum effect. This ensures the client is constantly reminded of the realtor.
Practicality: Choose items that are useful in everyday life. This ensures recipients use them regularly and increase brand visibility.
Quality: Invest in high-quality items that reflect the realtor's professional image. Low-quality items may leave a negative impression.
Targeted Distribution: Give out promotional items at events or places where the target audience is likely to present. This ensures the realtor's message reaches the right people.
By following these tips, realtors can efficiently leverage promotional items to increase brand visibility, build trust with clients, and attract more business.
Comparison between Different Types of Realtor Promotional Items
Promotional items are essential for realtors' marketing plans. They help create brand awareness and stay in people's minds. Let's check out the different kinds of realtor promotional items.
The table below will show you the features and advantages of each item:
| Promotional Item | Description | Benefits |
| --- | --- | --- |
| Magnetic Calendars | Stick-on calendars | Daily visibility |
| Customized Pens | Personalized writing instruments | Constant exposure |
| Branded Keychains | Key holders with logo | Daily brand reinforcement |
| Notepads | Memo pads with branding | Practical and reusable |
Every item has its own perks. Magnetic calendars make sure your brand is seen every time someone checks their fridge or filing cabinets. Customized pens are useful and guarantee exposure when used. Branded keychains not only organize keys but also remind people of your brand daily. Notepads offer practicality while keeping your branding close.
To make the best of your realtor promotional items, offer a variety to suit different people and target audiences. This ensures different preferences are catered to and your brand can reach more people.
Pro Tip: Make your promotional items even more effective by customizing them with contact information like phone numbers, email addresses, or website URLs. This makes it easier for potential clients to get in touch with you.
Factors to Consider When Choosing Realtor Promotional Items
Choose wisely! Picking the right promotional items for realtors can have a huge effect on their business. Here's what to consider:
Target Audience: Who are you targeting? Pick items that they'll like. For example, if it's young pros, try tech-savvy or fashionable things.
Practicality: Select items that are useful. This'll ensure people use them often, keeping your brand in mind. Notepads, keychains, and reusable bags are great options.
Branding Opportunities: Look for items that prominently display your branding. Print your logo/contact info. Also, pick items that match your image and values.
Quality: Invest in top-quality items. This'll create a positive impression of your brand. Plus, they'll last longer and make a lasting impression.
Also, think about your business and clientele. Consider their needs and preferences to make a real impact. So, don't miss this chance to stand out and wow potential clients! Start exploring today.
Case Studies: Success Stories of Realtors Using Promotional Items
Realtor promotional items are powerful tools for real estate professionals. Let's see how they work with a few case studies.
In California, a realtor gave out personalized keychains. It led to more client referrals.
In Florida, a real estate agent used branded notepads at open houses. This increased leads and property sales.
A realtor in New York offered custom tote bags to clients. This raised brand visibility and recognition in the community.
In Texas, a real estate company distributed branded pens at networking events. This grew business connections and partnerships.
An agent in Colorado gave out promotional water bottles. This improved customer loyalty and satisfaction.
These cases show how promotional items help realtors. They can use them to boost brand image and gain business opportunities.
We can get the most out of promotional items with these tips:
Choose items that clients need and will use often. This boosts brand exposure.
Personalize items with a logo and contact info. This helps recipients reach out when needed.
Give items to places where potential clients are. This raises the chances of attracting them.
Organize contests or giveaways with the items. This creates excitement around the brand.
Track results with client feedback or surveys. This helps realtors adjust future marketing efforts.
By following these steps, realtors can use promotional items to stand out in the competitive real estate market.
Tips for Effectively Using Realtor Promotional Items
Crafting a strong brand presence with promotional items is key to reaching potential clients. Here are tips to make the most of them:
Display your logo and contact info prominently.
Select items that align with target audience needs and interests.
Distribute in places where potential clients are likely to be.
Make yourself stand out from other realtors with unique details. For example, add a catchy slogan or quote related to homeownership on pens.
Create urgency by offering limited-time promotions or exclusive deals. Tap into FOMO to motivate potential clients to take action sooner.
Using realtor promotional items correctly can help grow your business. Create an impactful brand presence, choose relevant items, distribute strategically, add unique details, and create a sense of urgency to engage and succeed in the real estate market.
Conclusion
We've wrapped up our talk on realtor promotional items. It's clear that they are essential for upping brand visibility and making a positive impression on potential customers.
Realtors can give practical, quality items like personalized calendars or branded pens. But they can also try something new, like eco-friendly products like reusable tote bags or seed packets. For tech-savvy clients, USB drives and phone accessories bearing the realtor's logo could be a great option.
Let me tell you a story. Jane, a successful real estate agent, found out the true power of promotional items at an industry event. Instead of handing out business cards like everyone else, she gave away water bottles with her logo and contact info. This small gesture generated conversation and made her memorable. After the event, she got several inquiries and closed a few deals because of her promo strategy.
Frequently Asked Questions
FAQ 1:
What are realtor promotional items?
Realtor promotional items are products or materials that real estate agents use to market themselves and their services. These items often carry the realtor's branding and contact information.
FAQ 2:
What types of promotional items are commonly used by realtors?
Commonly used promotional items for realtors include branded pens, notepads, keychains, magnets, calendars, tote bags, and yard signs.
FAQ 3:
How can realtors benefit from using promotional items?
Promotional items can help realtors increase brand recognition, stay top of mind with potential clients, and establish a professional image. They can also serve as useful giveaways during open houses or community events.
FAQ 4:
Where can I order realtor promotional items?
There are various online and offline suppliers that specialize in producing realtor promotional items. Some popular options include websites, local print shops, and promotional product companies.
FAQ 5:
What should I consider when choosing realtor promotional items?
When choosing promotional items, realtors should consider their target audience, budget, and the usefulness or relevance of the item to their clients. It's important to select items that will leave a lasting impression.
FAQ 6:
Are there any legal restrictions on realtor promotional items?
There may be certain regulations regarding the use of realtor promotional items, such as including required disclaimers or adhering to specific guidelines in certain jurisdictions. It's important to consult local real estate laws and regulations to ensure compliance.