Table of Contents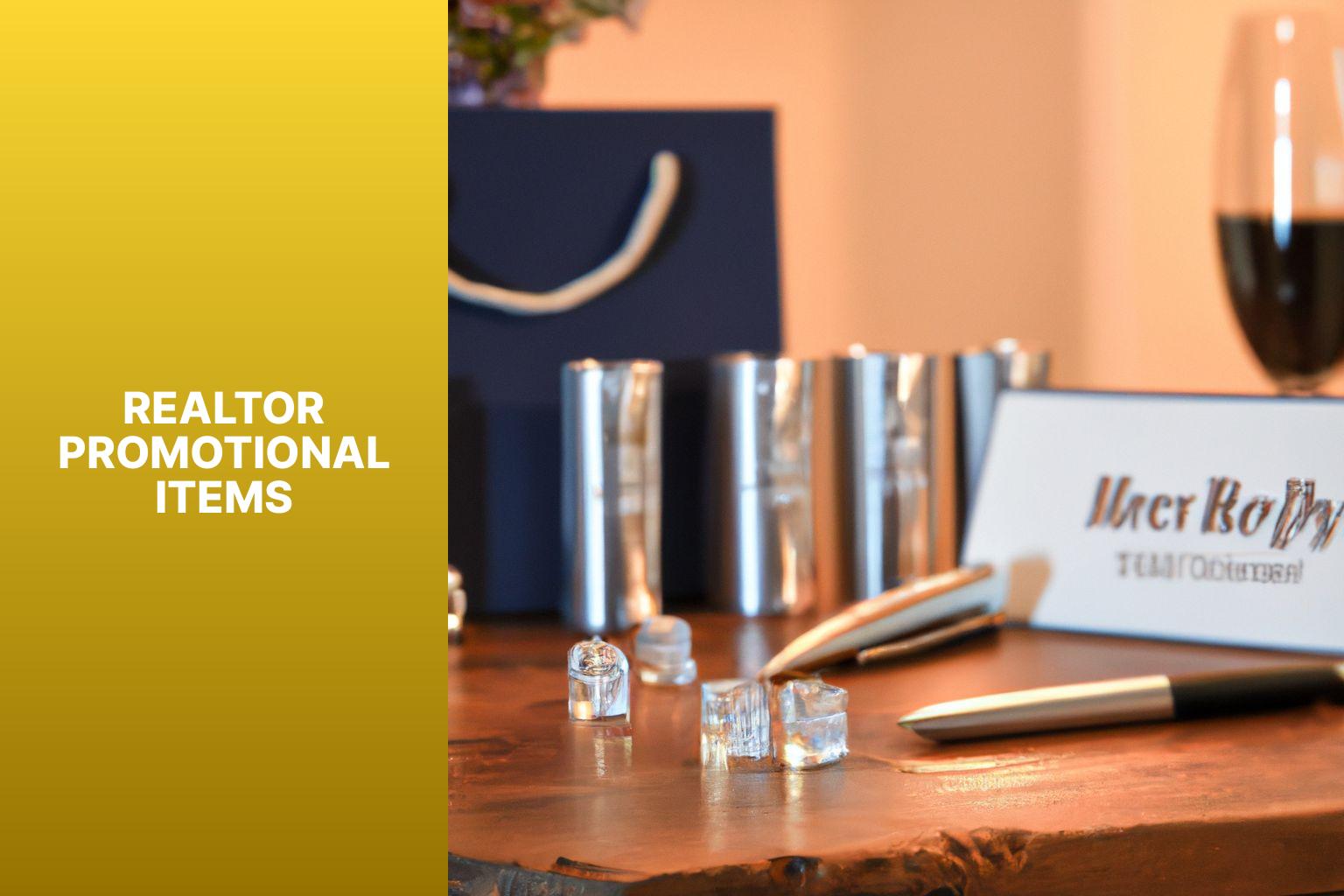 Real Estate Promotional Items and Swag
As a real estate professional, you know the importance of standing out in a competitive market. With so many agents vying for the attention of potential buyers and sellers, it's crucial to find unique and effective ways to promote your business. One strategy that has proven to be successful is the use of real estate promotional items and swag. These items not only help you make a lasting impression on clients and prospects but also serve as powerful marketing tools that can elevate your business to new heights.
Benefits of using promotional items in real estate marketing
When it comes to marketing your real estate business, promotional items offer a range of benefits that can give you a competitive edge. Firstly, these items serve as tangible reminders of your brand.
Whether it's a branded pen, magnet, or keychain, these items are likely to be used or seen on a daily basis, keeping your name and contact information fresh in the minds of potential clients. This constant exposure increases your chances of being top-of-mind when they're ready to buy or sell.
Secondly, promotional items can help you build and maintain relationships with clients. By giving them a useful and thoughtful gift, you show that you value their business and appreciate their support. This simple gesture can go a long way in fostering loyalty and encouraging repeat business and referrals.
Lastly, promotional items are cost-effective marketing tools. Compared to traditional advertising methods, such as billboards or radio ads, promotional items offer a high return on investment. With a relatively low cost per item, you can reach a large audience and generate significant brand exposure.
Real Estate Marketing Products
When it comes to choosing the right promotional items for your real estate business, the options are virtually endless. Here are some popular choices that have proven to be effective:
1. Pens. Promotional pens are practical, cost-effective, and widely used, ensuring consistent brand exposure. They're easily customizable for targeted marketing and ideal for broad distribution.
2. Homeowner Toolkits: A toolkit with your logo and contact information can be a handy gift for new homeowners. It shows that you care about their well-being and are there to help with any maintenance or repairs they may need.
3. Chip clips. Chip clips are practical promotional items, ideal for daily brand exposure in kitchens. They're cost-effective, customizable, and widely appreciated for their utility in preserving food freshness.
4. Realtor Keychains: Keychains are affordable, practical, and highly customizable. They can be shaped like houses, keys, or even miniature tools, making them a perfect promotional item for real estate agents.
5. Tote Bags: Branded tote bags are not only useful for clients during open houses or events but also serve as walking billboards for your business. People will see your brand wherever the bag goes, increasing your visibility in the community.
Realtor Gifts
With so many options available, choosing the right promotional items for your real estate business can seem overwhelming. However, by considering a few key factors, you can make an informed decision that aligns with your brand and resonates with your target audience.
1. Know your audience: Understanding who your target market is will help you choose promotional items that appeal to their interests and needs. For example, if you primarily work with young professionals, tech gadgets or trendy accessories might be a better choice than traditional items.
2. Consider usefulness: The most effective promotional items are the ones that clients will use. Think about items that can be incorporated into their daily lives, such as kitchen gadgets, reusable water bottles, or smartphone accessories.
3. Reflect on your brand: Your promotional items should reflect the values and personality of your real estate business. Consider the colors, fonts, and overall aesthetic that represent your brand and incorporate them into the design of the items.
4. Quality matters: While it may be tempting to opt for the cheapest options, remember that the quality of your promotional items reflects your brand. Choose items that are durable, well-made, and of good quality to leave a positive impression on clients.
Real Estate Promotional Products
Once you have chosen the right promotional items for your real estate business, it's time to get creative with how you use them in your marketing efforts. Here are some ideas to help you make the most of your promotional items:
1. Open house giveaways: When hosting an open house, offer a small promotional item as a giveaway to visitors. This not only helps you stand out from other agents but also gives potential clients a tangible reminder of your services.
2. Referral incentives: Encourage your clients to refer friends and family by offering a promotional item as an incentive. This not only increases the chances of receiving referrals but also reinforces the value you place on their recommendations.
3. Social media contests: Run a contest on your social media platforms where participants have a chance to win a valuable promotional item. This helps increase engagement, reach a wider audience, and generate buzz around your brand.
4. Welcome packages: Create welcome packages for new homeowners that include a variety of promotional items, such as branded kitchen utensils, a welcome mat, and a personalized note. This thoughtful gesture helps you make a lasting impression and shows your commitment to their satisfaction.
Real estate agent marketing giveaways that make an impact
As a real estate agent, your marketing efforts are crucial in attracting and retaining clients. One way to make a significant impact is by offering marketing giveaways that leave a lasting impression. Here are some ideas for giveaways that can elevate your marketing game:
1. Home staging consultation: Offer a complimentary home staging consultation as a giveaway. This not only helps potential sellers prepare their homes for listing but also showcases your expertise and commitment to achieving the best results.
2. Professional photography session: Give away a professional photography session to clients who list their property with you. High-quality photos can significantly impact the perception of a property and attract more potential buyers.
3. Moving assistance: Offer free moving assistance to clients who purchase a property through you. This can include coordinating movers, providing packing supplies, or even helping with the physical move. It's a valuable service that sets you apart from other agents and builds trust with your clients.
4. Home warranty: Provide a complimentary home warranty as a giveaway to clients who purchase a property through you. This not only offers peace of mind but also shows your commitment to their satisfaction and protection.
Promotional gifts for real estate agents that clients will love
In addition to marketing giveaways, it's essential to consider promotional gifts for real estate agents themselves. These gifts not only show your appreciation for their hard work but also serve as a way to promote your brand when they're out in the field. Here are some ideas for promotional gifts that real estate agents will love:
1. Hats. Logoed hats provide effective mobile branding, combining style and practicality. They're widely worn, and customizable, and act as moving billboards, increasing brand visibility in various settings.
2. Technology accessories: Equip your agents with technology accessories, such as branded phone stands, portable cell phone chargers, or laptop sleeves. These items not only enhance their productivity but also showcase your commitment to staying ahead in the digital age.
3. Can Coolers and Koozies® Clients appreciate can coolers and koozies for keeping beverages cold, their compact design, and the fun, customizable branding they display, offering continuous exposure at social gatherings.
4. Tape measures. Clients love promotional tape measures for their handy, everyday utility in DIY and professional tasks, combined with the opportunity for customized branding that keeps your business in constant view.
Real estate marketing giveaways that stand out from the competition
To truly elevate your real estate marketing efforts, it's important to offer giveaways that stand out from the competition. By thinking outside the box and offering unique and valuable items, you can make a memorable impression on potential clients. Here are some ideas for real estate marketing giveaways that will make you stand out:
1. Smart home devices: Offer a smart home device, such as a voice-controlled speaker or a smart thermostat, as a giveaway. This not only shows your commitment to the latest technology but also adds value to the client's home.
2. Personalized moving boxes: Provide clients with personalized moving boxes that feature your logo and contact information. This unique and practical giveaway not only helps clients during their move but also serves as a constant reminder of your services.
3. Home improvement gift cards: Give away gift cards to home improvement stores as a way to help clients personalize and enhance their new homes. This thoughtful gesture shows your commitment to their satisfaction and helps them create a space they love.
4. Exclusive neighborhood guides: Create exclusive neighborhood guides that highlight the best restaurants, parks, and attractions in the areas you serve. This valuable resource not only helps clients familiarize themselves with the neighborhood but also positions you as a knowledgeable and trusted local expert.
Promotional items for open houses and events
Open houses and events provide excellent opportunities to connect with potential clients and showcase your expertise. By offering promotional items at these gatherings, you can leave a lasting impression and increase your chances of securing new business. Here are some promotional items that are perfect for open houses and events:
1. Sport & Water Bottles: Offer branded water bottles, coffee mugs, or wine glasses as giveaways at open houses and events. These items are not only practical but also serve as a constant reminder of your services every time they're used.
2. Magnets. Magnets are an effective, cost-efficient promotional tool for realtors, offering long-lasting visibility, practical use, and customizable options for enhanced brand awareness and broad audience reach.
3. Stress balls. Stress balls are popular promotional items offering tactile stress relief. They're customizable, budget-friendly, and frequently used, ensuring regular brand exposure and recall in high-pressure environments.
4. Customized tote bags: Offer customized tote bags at open houses and events, encouraging attendees to use them to carry other promotional materials or items they collect. This not only increases your brand visibility but also provides a practical solution for attendees.
Promotional products for long-term brand exposure
While promotional items are effective in creating immediate brand exposure, they can also serve as long-term marketing tools. By choosing items that have a longer lifespan and can be used over an extended period, you can ensure that your brand stays in front of potential clients for years to come. Here are some promotional products that offer long-term brand exposure:
1. Wall calendars: Branded wall calendars are a classic promotional item that provides year-round brand exposure. Clients can hang them in their homes or offices, ensuring constant visibility of your brand.
2. USB drives: Offer branded USB drives that clients can use to store their important documents and files. These practical items will be used repeatedly, keeping your brand in front of them every time they're accessed.
3. Reusable shopping bags: Provide clients with reusable shopping bags that feature your logo and contact information. These bags will be used regularly, not only promoting your brand but also showcasing your commitment to sustainability.
4. Desk organizers: Give away desk organizers that can be used to keep clients' workspaces tidy and organized. These items will remain on their desks, ensuring constant exposure to your brand.
Where to find the best real estate promotional items
Now that you're convinced of the power of real estate promotional items, you might be wondering where to find the best products to elevate your business. Fortunately, ZAG Branding Solutions specializes in creating custom promotional items for the real estate industry.
We are a local supplier servicing the Philadelphia metropolitan area. We offer personalized service, quick turnaround times, and unique items that can add a personal touch to your marketing efforts.
Conclusion: Elevate your real estate business with promotional items
In a highly competitive real estate market, finding effective ways to stand out and build your brand is essential.
By incorporating real estate promotional items into your marketing strategy, you can make a lasting impression on clients, nurture relationships, and increase brand exposure. From open houses to closing deals, these items serve as powerful tools that can elevate your business and leave your competition in the dust.
So don't miss out on this game-changing opportunity. Uncover the secret promotional items that top real estate moguls don't want you to know about! Click now to discover how these game-changing products can skyrocket your sales and #UnlockYourSuccess!
Wanda Banks Green is the owner of Zag Branding Solutions, a full-service branding agency, specializing in promotional products, corporate gifts, and branded apparel.