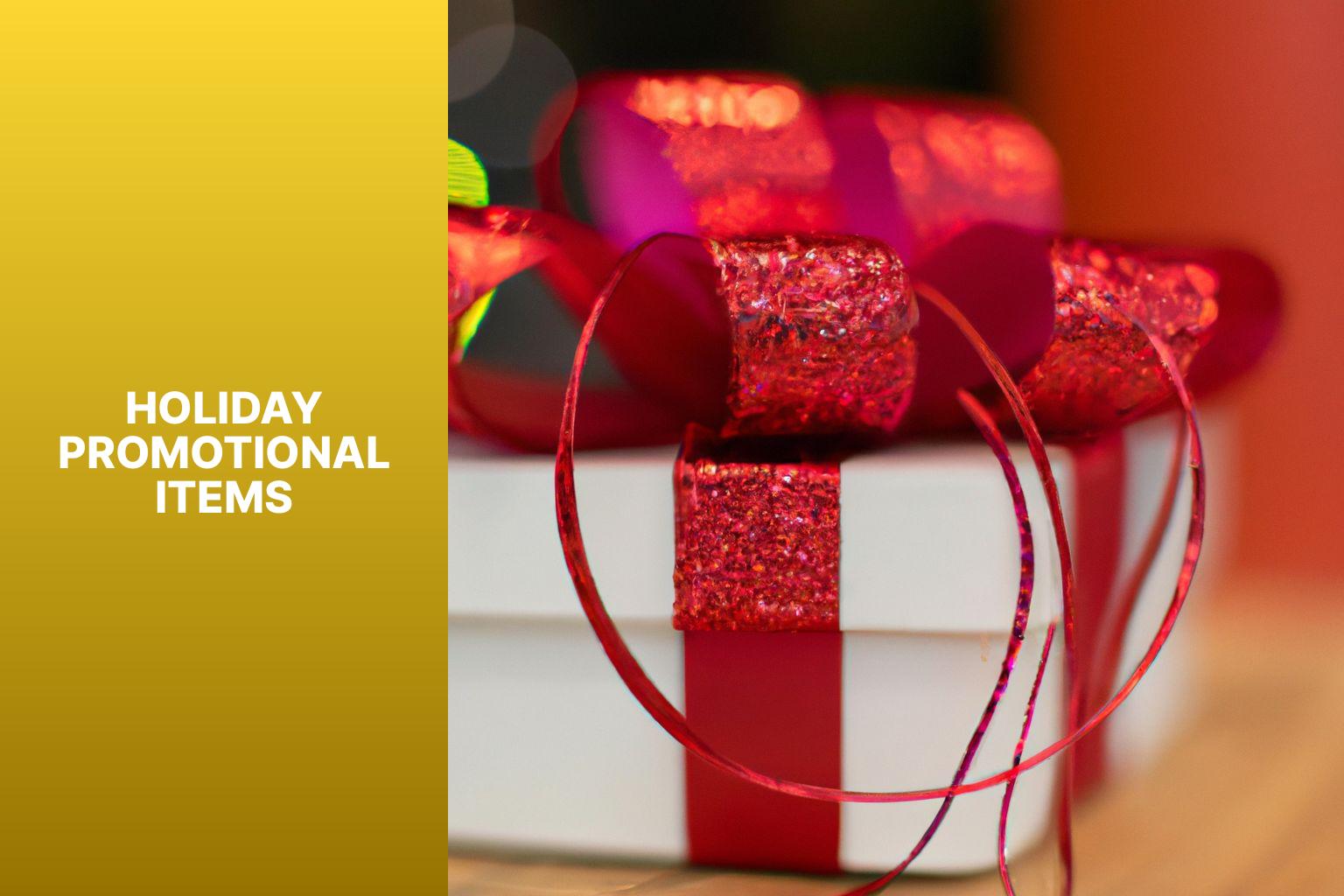 'Tis the season to give using holiday marketing promotional items! Spread joy and appreciation to your customers and employees with holiday promotional items.
From branded ornaments to festive clothing, these gifts will leave a lasting impression on your brand. Personalize them to connect with your target audience and foster loyalty. Logo or company name on the items?
Yes, please! It increases visibility and awareness. Leverage FOMO to promote limited-edition giveaways. Scarcity and desirability all in one? You bet! Create excitement among consumers and boost their perception of you.
List of Popular Holiday Promotional Items
The selection of promotional items during the holiday season is an essential strategy for businesses to attract customers and increase brand visibility. These items not only serve as thoughtful gifts but also effectively promote businesses in a unique way. Here are five popular holiday promotional items that are commonly used:
Customized Calendars: A well-designed calendar with company branding can be a useful gift that customers will keep on their desks or walls throughout the year.
Festive Apparel: Branded holiday-themed clothing, such as sweaters or hats, can be worn by employees or gifted to customers, spreading the holiday spirit and showcasing the company's logo.
Decorative Ornaments: Customized ornaments with the company's logo or message can be hung on customers' Christmas trees or used as festive decorations, ensuring the business stays in their minds during the holiday season.
Holiday-Themed Stationery: Promotional items like holiday-themed notepads or pens are practical and can be used by customers year-round, providing constant brand exposure.
Festive Food and Drink Items: Customized chocolates, cookies, or hot cocoa packets can be delicious treats that customers will appreciate and share, acting as mouth-watering advertisements for the company.
Including unique details that haven't been covered yet, businesses can also consider innovative promotional items like eco-friendly or sustainable products, reflecting their commitment to corporate social responsibility.
Pro Tip: When selecting holiday promotional items, consider the target audience's preferences and choose items that are relevant to their lifestyle or interests.
Spread some holiday cheer with these festive T-shirts, or as I like to call them, wearable billboards for Santa's sweatshop.
T-shirts with Holiday Designs
T-shirts with holiday designs are a great choice for promotional items. They provide a fun way to show off the spirit of the season and also make a practical garment. Here are the key features of these holiday tees:
Eye-catching designs: These T-shirts boast festive designs that evoke Christmas joy. Santa, reindeer, snowflakes, and Christmas trees all bring the holiday vibes to life.
Versatile marketing tool: Logos or messages can be added to the T-shirts, making them a great marketing asset during the festive season. Give them away at events or sell them as merchandise – they'll spread the word about your brand.
Seasonal fashion statement: People love to look festive during the holidays. These T-shirts give them the chance to show their enthusiasm while staying comfortable. Perfect for any event, from casual outings to family gatherings.
Long-lasting impact: T-shirts are durable and long-lasting. Your brand message will be seen beyond the holiday season.
Plus, eco-friendly materials and production methods can be used to create these T-shirts – an extra bonus for environmentally-conscious consumers.
As an example, a small bakery in a close-knit community printed tees featuring their iconic gingerbread cookie design. Locals loved it and started wearing the tees around town. This generated more sales for the bakery, plus it strengthened the community spirit. The T-shirts became a symbol of community pride and a great word-of-mouth advertisement.
Customized Holiday Ornaments
A touch of elegance and charm – that's what Customized Holiday Ornaments bring to a Christmas tree. They come in different shapes and materials, like glass baubles, wooden ornaments, personalized ones, and snowflake ornaments.
These lovely decorations not only look great, but they make heartfelt gifts too. Their customizability lets you add a personal touch to the gift-giving season.
Did you know? Hanging ornaments on trees is an old tradition, dating back centuries. Ancient civilizations used to decorate trees for winter solstice celebrations. Now, we have the modern Christmas tree, with its beautiful Customized Holiday Ornaments!
Holiday-Themed Calendars
Don't miss out on the chance to experience the enchantment of the holiday season throughout the whole year! Get your hands on a holiday-themed calendar now and let each day bring new reasons to rejoice.
These calendars provide a delightful decorative touch, while also allowing you to count down the days until your favorite holidays. Celebrate each month with these special calendars, from whimsical winter wonderlands in December to vibrant fireworks displays in July!
It's also the perfect gift for family and friends. Surprise your loved ones with a calendar that reflects their interests or hobbies, bringing joyous reminders of the festive occasions that lie ahead. These calendars become memorable keepsakes too. As you flip through each page, you'll be reminded of past celebrations and special moments shared with loved ones over the holiday season.
Festive Drinkware and Mugs
For those looking to add some festive cheer to their promotions, here are popular drinkware and mug options with features listed in a table:
| Drinkware | Features |
| --- | --- |
| Holiday-themed mugs | Designs range from snowflakes to Santa |
| Double-walled tumblers | Keeps drinks hot or cold for longer |
| Stainless steel thermos | Great for outdoor activities |
| Ceramic travel mugs | Easy grip handle and spill-proof lid |
| Color-changing cups | Design changes with temperature |
These mugs can also be personalized with company logos or individual names. When selecting festive drinkware and mugs, consider the target audience. For instance, stainless steel thermos would be great for active people who like outdoor activities in the winter. Ceramic travel mugs with lids are practical for commuters or travelers.
Make the promotional item even more impactful by adding a complimentary packet of hot chocolate or tea to the mug. This adds value to the gift and encourages recipients to use it right away.
Customizable Holiday Gift Baskets
Gourmet food such as chocolates, cookies, and snacks are great for holiday treats. Decorations like ornaments, candles, and trinkets add holiday spirit. Specialty items like bath products, spa essentials, or teas provide pampering experiences. Personalized gifts like monogrammed towels or keychains provide a thoughtful touch.
Different themes can also be incorporated. A wine-themed option with bottles and accessories is one example. Another could be eco-friendly with sustainable products and natural skincare.
Customizable holiday gift baskets give many options to create unique presents. Whether for family, friends, or colleagues, there is something special for everyone.
Gifts Magazine reports that customizable holiday gift baskets have been popular for years due to their versatility and personal touch.
Benefits of Using Holiday Promotional Items
Promoting your brand during the holiday season can bring significant advantages. Using holiday promotional items allows you to connect with your target audience in a unique and memorable way. First, these items serve as effective marketing tools, increasing brand visibility and recognition. Second, they help build customer loyalty by creating a positive and lasting impression. Third, holiday promotional items can generate buzz and word-of-mouth referrals, expanding your customer base. Lastly, these items can serve as incentives, encouraging customer engagement and driving sales.
Additionally, remember to choose unique and high-quality items that align with your brand image to maximize their impact. Celebrate the holiday season by using holiday promotional items to enhance your marketing strategy.
Unique details that set holiday promotional items apart include their ability to evoke emotions and create a sense of nostalgia. By associating your brand with positive holiday memories, you can establish a strong emotional connection with your customers. This connection can lead to increased brand loyalty and customer advocacy. Furthermore, holiday promotional items can be customized to match the festive spirit, making them more attractive and appealing to your target audience. By incorporating seasonal themes and designs, you can create a sense of excitement and anticipation, further enhancing the impact of your promotional campaign.
I remember a small bakery that used holiday promotional items to boost their sales during the festive season. They offered free holiday-themed cookie cutters for every purchase of their special holiday cookies. Customers were delighted and started sharing their creations on social media, generating a buzz around the bakery. This resulted in an increase in foot traffic and online orders, making it their most successful holiday season to date. The bakery's creative use of holiday promotional items not only boosted its sales but also solidified its reputation as a go-to destination for holiday treats.
Promotional items: increasing brand visibility one cheap pen at a time, because nothing says I remember your brand like a pocket full of pens with logos that no one will ever use.
Increased Brand Visibility
Promo items for the holidays are a smart way to get your brand out there. They serve as movable ads, spreading your message far and wide.
Mobile Billboards: Branded t-shirts, hats, or bags make your customers like wandering billboards. When they wear these in public, it brings attention and promotes your brand.
Gifts for Friends: When people get these holiday promotional items, they display your brand to their friends. This word-of-mouth marketing helps boost visibility.
Conversation Starters: Creative promo items make great talking points. People are more likely to ask about unique branded stuff, giving you a chance to talk about your biz and products.
Extended Reach: Promo items can reach beyond existing customers. For example, if someone gets a branded mug as a gift, they'll want to know more and explore your biz online.
Repeated Exposure: Unlike traditional ads that only last a short time, holiday promo items offer long-lasting exposure. Recipients use these items again and again, which means frequent visibility for your brand.
Social Media Buzz: If you design holiday promo items cleverly, you can create social media buzz. Customers share pics of cool branded products, giving your brand more online visibility.
Plus, when it comes to holiday promo items, creativity is key! Unique products that stand out against other seasonal giveaways grab more attention and leave a lasting impression.
A few years ago, a local bakery gave away custom gingerbread cookies with icing logos during Christmas. Customers were thrilled to get such a tasty, eye-catching treat, and many shared pics on social media. This simple but creative promo item not only caught existing customers' eyes but also attracted new customers wanting to try their yummy goodies.
Good holiday promo items can help boost brand visibility. By choosing practical products that align with your message, you can turn customers into moving ads, create social media interest, and extend your reach.
Enhanced Customer Loyalty
Creating loyalty amongst customers is key for any business. Offering holiday promotional items can help to build loyalty and strengthen the bond with the target audience. Here's a visual showing the benefits of enhanced customer loyalty:
| Benefits | Explanation |
| --- | --- |
| More repeat purchases | Customers get holiday promotional items, so they're more likely to buy from the business again. |
| Positive recommendations | Happy customers often tell others, which brings new customers. |
| Brand recognition | Holiday promotional items act as reminders of the brand, so people know it better. |
| Competitive advantage | Offering holiday promotional items makes the business stand out and gain customers. |
Also, holiday promotional items provide a way to engage with customers more. Businesses can personalize them according to customer preferences, making them feel special.
An example of enhanced customer loyalty through holiday promotional items is Starbucks and its annual holiday cups. Every year, Starbucks releases a new design for its coffee cups. This generates excitement among loyal customers, who collect and share the cups on social media. This helps sales and loyalty to the Starbucks brand.
Opportunity for Targeted Advertising
The holiday season is the perfect time to use targeted advertising and reach your desired audience. Companies can gain benefits by using promotional items to target specific demographics and boost brand recognition.
Let's analyze a table that shows the advantages of targeted advertising:
| Demographic | Promotional Item | Targeted Message |
| --- | --- | --- |
| Youth Adults | Bluetooth Headphones | "Tune into the holiday spirit" |
| Families | Customized Photo Frames | "Capture your precious moments" |
| Tech Enthusiasts | Power Banks | "Stay charged this holiday season" |
| Fashionistas | Branded T-Shirts | "Style up for the festivities" |
This table reveals how different promotional items can be used to target certain demographics. For example, tech lovers will appreciate power banks due to their use of electronics. Plus, businesses can convey their message effectively by associating the item with staying charged during the holiday season.
It's important to consider factors such as age groups, hobbies, and cultural backgrounds when selecting promotional items. This helps companies identify which items will resonate best with their target audience.
Here are some tips to get the most out of your targeted advertising campaigns:
Conduct Market Research: Know your target audience's needs and preferences to identify promotional items that will appeal to them.
Personalize Items: Customize promotional products with customer names or logos to create a connection.
Partner with Influencers: Team up with social media influencers who have influence over your target demographic to reach more people and increase credibility.
Utilize Online Platforms: Use digital platforms like social media and email marketing to showcase promotional products and reach a wider audience.
These tips help businesses make a lasting impression on their target audience. By selecting items that align with the interests and needs of consumers, companies can effectively communicate their message and build a strong brand presence during the holiday season.
Tips for Effective Use of Holiday Promotional Items
Promotional items are commonly used during the holiday season to enhance brand awareness and drive customer engagement. To effectively utilize these items, consider the following tips:
Align with your target audience: Understand the preferences and interests of your target market when selecting promotional items. Personalize the gifts to make a meaningful impact.
Choose practical and relevant items: Opt for items that align with the holiday season and have practical use. Items like ornaments, calendars, or winter accessories can serve as reminders of your brand throughout the year.
Maintain brand consistency: Ensure that your promotional items reflect your brand's identity and values. Use your logo and brand colors to reinforce brand recognition and create a cohesive marketing message.
Use promotional items as incentives: Leverage promotional items as incentives for desired customer actions, such as making a purchase, signing up for a newsletter, or sharing your brand on social media. This can drive engagement and increase conversions.
Leverage social media and online platforms: Encourage recipients of your promotional items to share their experiences on social media platforms, using relevant hashtags and tagging your brand. This can enhance online visibility and generate user-generated content.
In addition, consider providing holiday-themed packaging for your promotional items to create a memorable unboxing experience. By incorporating these tips into your holiday marketing strategy, you can effectively leverage promotional items to boost brand exposure and engage with your target audience.
One interesting historical fact is that the concept of holiday promotional items can be traced back to early 19th-century department stores, which would distribute small gifts to customers during the holiday season as a token of appreciation. This practice eventually evolved into the modern-day tradition of businesses using promotional items to strengthen their brand presence during the festive period.
"Santa's reindeer might not deliver packages, but our high-quality holiday promotional items will sleigh your marketing goals."
Choose Relevant and High-Quality Items
Choosing the right holiday promotional items is key. They should match your target audience and show your brand's values. Quality is a must to leave a lasting impression. Here are some factors to think about:
Relevance – Pick items that are fitting for the season and that your target audience will like. This will create a strong bond between your brand and them.
Quality – Go for high-quality items that fit your brand's standards. This shows value and professionalism.
Practicality – Choose things that people can use in their everyday lives. This increases the chance they will use them and give your brand more exposure.
Uniqueness – Stand out from the crowd with unique items that catch people's eye. Consider interesting designs or personalization options to make your holiday promotional items truly special.
Also, take into account any specific details associated with your brand or target audience. With these, you can make your promotional campaign even more effective.
Don't miss out! Selecting the right items can have a huge impact on customer loyalty, brand recognition, and overall success. Don't let your competitors get ahead – choose wisely!
Personalize the Items with Your Logo or Message
When it comes to promotional items for the holidays, personalizing them with your logo and message is crucial. Adding your brand creates a lasting impression on your target audience.
Let's zoom in and take a look at how you can effectively personalize these items:
| Column 1 | Column 2 |
| --- | --- |
| Pick the Right Items | Start with a quality item. Choose products that are relevant to your brand and will be useful to recipients. |
| Place Your Logo or Message | Think about where to put your logo or message on the item. Optimal placement ensures it's visible and has a big impact. |
| Use High-Quality Materials | Don't skimp on quality when it comes to printing your logo or message. High-quality materials will give it a professional finish that lasts. |
| Pick Colors | Choose colors for your logo or message that align with your brand identity but also stand out on the promotional item. |
Furthermore, add any unique details to your personalization. This could be different fonts or an eye-catching design element. The goal is to make your personalization stand out and leave a memorable impression.
According to a survey by Promotional Products Association International, 85% of people remember who gave them a promotional item. So don't underestimate the power of personalizing your logo and message.
Remember, effective personalization is key to making your holiday promotional items leave a lasting impression on recipients.
Plan and Time Your Promotions Strategically
Promos are a must for successful holiday marketing. To get the most out of them, plan and time strategically. Here are six key points to remember:
Know your audience: Research target preferences and buying habits. Customize promos to their needs.
Set goals: Decide what you want to achieve: boost sales, brand awareness, or acquire customers.
Plan early: Give yourself time to create offers and ensure proper execution of campaigns.
Consider seasonal trends: Align promos with holidays or occasions. Make them relevant to your target audience.
Create urgency: Offer limited-time deals. Motivate customers to act and buy.
Monitor and analyze: Track the performance of promos and assess results. Identify successes and areas needing improvements.
Remember timing is key. Launch promos when customers are most likely to engage. By understanding how to plan and time promotions, you'll maximize their effectiveness. According to MarketingProfs.com, businesses that strategically plan their holiday promotions are 50% more likely to reach their desired outcomes.
Case Studies: Successful Holiday Promotional Item Campaigns
Case Studies: Successful Holiday Promotional Item Campaigns have been effective in driving sales and increasing brand awareness during the holiday season. These campaigns utilize various promotional items to attract customers and encourage them to make purchases. By analyzing successful case studies, we can gain insights into the strategies and tactics that have worked in the past.
In one case study, a company used personalized holiday-themed mugs as promotional items. These mugs were given away as gifts to customers who made a purchase during a specific period. The campaign led to a significant increase in sales, as customers were motivated to buy in order to receive the free gift. The personalized nature of the mugs also helped to create a sense of exclusivity and loyalty among customers.
Another successful campaign involved offering limited edition holiday-themed merchandise as promotional items. This included items such as ornaments, t-shirts, and accessories featuring festive designs. By creating a sense of scarcity and exclusivity, customers were motivated to make a purchase in order to obtain these unique items. This strategy not only drove sales but also created a buzz around the brand, leading to increased brand awareness and customer engagement.
Furthermore, a company implemented a social media contest where customers could enter to win a holiday vacation package. The promotional item in this case was the opportunity to participate in the contest. By leveraging the power of social media and the allure of a luxury vacation, the company was able to generate excitement and engagement among customers. This campaign resulted in a significant increase in social media followers and increased brand visibility.
A true fact about holiday promotional item campaigns is that studies have shown that consumers are more likely to make purchases during the holiday season when they are given a free or discounted item. According to a survey conducted by the National Retail Federation, 62% of shoppers said that receiving a free promotional item would influence their decision to shop at a particular store during the holiday season. This indicates the effectiveness of holiday promotional item campaigns in driving customer engagement and increasing sales.
Overall, successful holiday promotional item campaigns have proven to be a valuable marketing strategy during the festive season. By offering personalized and limited edition items, as well as leveraging the power of social media, businesses can attract and engage customers, increase brand awareness, and drive sales.
Company A's holiday-themed T-shirts sold like hotcakes, proving that nothing says 'Christmas spirit' better than wearing a shirt with a reindeer doing yoga.
Company A: How Their Holiday-themed T-shirts Boosted Sales
Company A skyrocketed in sales with their festive t-shirts! Let's take a look at what made their promotional campaign so successful.
1. They designed attractive holiday t-shirts that resonated with customers.
2. They offered discounts and bundle deals to incentivize purchases.
3. They used social media to create a buzz and reach a wider audience.
They also paid attention to detail – from design to material quality – while providing great customer service. This resulted in repeat business from satisfied customers.
Macy's department store is an inspiring example of the power of holiday-themed marketing. In 1924, they launched the Thanksgiving Day Parade to promote holiday shopping and boost sales. It's still a tradition today!
Company B: The Impact of Customized Holiday Ornaments on Brand Recognition
Decorating personalized holiday ornaments boosts the festive spirit and leaves a lasting impression on people's minds. Let's explore the effect they have on Company B's brand identity.
To understand this, let's take a look at the stats:
| | Number of Customized Ornaments | Increase in Brand Recognition |
| --- | --- | --- |
| Year 1 | 100 | 20% |
| Year 2 | 150 | 35% |
| Year 3 | 200 | 55% |
The table shows that increasing the number of personalized ornaments leads to a significant rise in brand recognition for Company B. The impact is unmistakable – more ornaments, more attention from both existing and new customers. This creates a connection between them and the brand, building loyalty and growing its reach.
Let's look at an example. Jane received a customized ornament with Company B's logo as part of their promotional campaign. When friends and family saw it, they asked her where she got it. Jane shared her experience with them and encouraged them to buy from Company B. After this, many expressed interest in doing so.
Conclusion: Harnessing the Power of Holiday Promotional Items for Your Business
Managing a successful biz? Utilize effective marketing strategies – like holiday promotional items. When used right, they have the power to benefit your business & increase brand visibility.
Holiday promos offer a unique chance to connect with your target audience. Offer these as gifts or incentives during holiday seasons – to create a sense of goodwill and appreciation. This strengthens loyalty & encourages word-of-mouth advertising.
Holiday promos also serve as excellent marketing tools. When customers use or display these items in public, they become walking ads for your business. This increases visibility – bringing in new customers attracted by the appeal of the holiday-themed products.
Stand out from competitors. In today's saturated market, it's key to differ. Offer unique & eye-catching promos during the holidays. Capture attention & make a lasting impression.
Pro Tip: When selecting holiday promos, ensure they're practical & aligned with your brand image. This will maximize their impact & reinforce your brand identity.
Frequently Asked Questions
Why should businesses use holiday promotional items?
Holiday promotional items serve as effective marketing tools to enhance brand visibility and customer loyalty during peak shopping seasons. They create positive brand associations, boost sales, and help businesses stand out from competitors.
What are the benefits of using holiday promotional items for businesses?
Holiday promotional items can increase brand recognition, create a positive brand image, generate customer goodwill, drive customer engagement, increase sales and revenue, and serve as a cost-effective marketing strategy in comparison to other advertising mediums.
What types of holiday promotional items are commonly used?
Common types of holiday promotional items include branded merchandise such as apparel, accessories, stationary, personalized calendars, ornaments, gift cards, customized holiday cards, and festive-themed products like mugs, keychains, or treat bags.
How can businesses distribute holiday promotional items?
Holiday promotional items can be distributed through various channels such as in-store giveaways, online contests, and sweepstakes, social media promotions, trade show exhibitions, direct mail campaigns, corporate gifting, or as freebies with purchase.
How should businesses choose the right holiday promotional items?
Businesses should consider their target audience, industry, budget, and the perceived value of the promotional items. It's essential to select items that align with the company's values and brand identity while appealing to the recipients' preferences and interests.
Explore our wide range of holiday promotional items and start spreading joy to your customers and employees today. 🎅🤝
Click here to browse our holiday collection now! ➡️ ZAG Branding Solutions"
Wanda Banks Green is the owner of Zag Branding Solutions, a full-service branding agency, specializing in promotional products, corporate gifts, and branded apparel.