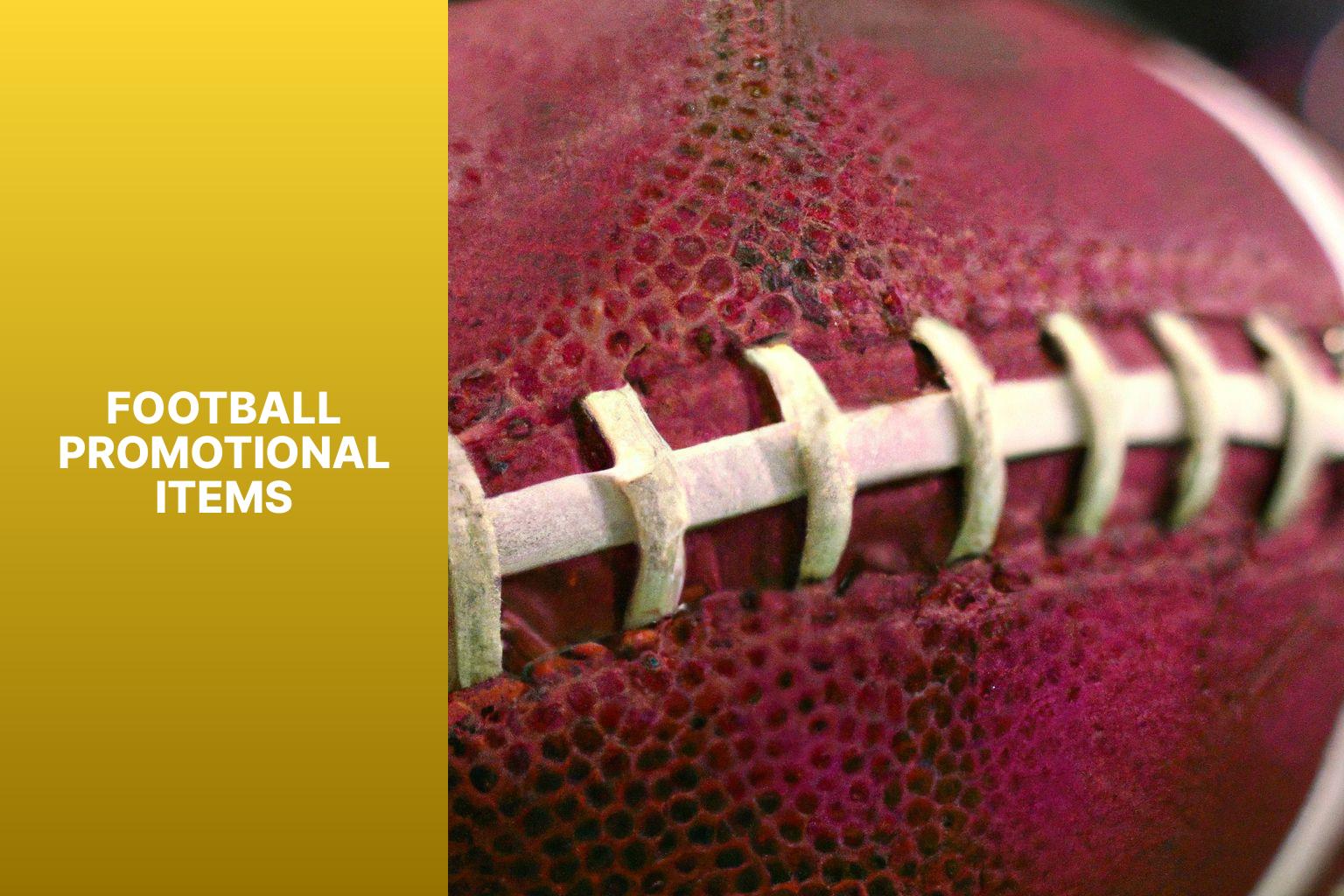 Table of Contents
Football promotional items create a strong connection between fans and teams. From jerseys to mini footballs, they showcase your brand in a memorable way. Collectible items, like keychains and hats, tap into fans' desires for exclusivity. Time-limited offers incite a sense of urgency, allowing them to own a piece of their team's history. Fans don't want to miss out!
Benefits of Using Football Promotional Items
Football promotional items have a huge range of advantages that any football-related business or organization can take advantage of. They are an effective marketing tool that boosts brand recognition and loyalty, as well as getting new customers.
Brand Recognition: Football jerseys, caps, and keychains with your logo and name on them build brand awareness. When others see people wearing or using these items, it helps spread the word about your business.
Customer Loyalty: Giving out free football promotional items to existing customers expresses appreciation and strengthens loyalty. It makes them feel valued and encourages more purchases.
New Customer Attraction: Football-themed merchandise can draw in new customers who are interested in the sport. When they receive these items as gifts or prizes, it creates a positive perception of your brand.
Cost-Effective Marketing: Compared to traditional advertising like TV or radio commercials, using football promotional items is more cost-effective. It allows you to reach many people without breaking the bank.
Brand Differentiation: You need to be different from the competition. Football promotional items help to make your brand stand out by providing special merchandise that showcases your business in a creative, memorable way.
Apart from increasing brand visibility and attracting customers, these promotional items can also be used as incentives for employees or as giveaways at charity events hosted by your company.
Also, the concept of football promotional items dates back to when sports sponsorships became popular. Brands saw the great exposure they could get by connecting themselves with beloved sports teams and events. This led to the creation of various football-themed promotional products which still remain powerful marketing tools today.
Top 10 Most Popular Football Promotional Items
Love football? You'll adore these highly-desired promotional items! Discover the top selections of fans and aficionados, flaunted at a fashionable table.
Football Promotional Items:
Customized Jerseys
Mini Footballs
Sports Water Bottles
Foam Fingers
Branded Hats
Stadium Seat Cushions
Team Logo Keychains
Autographed Memorabilia
Logo Imprinted Footballs
Tailgate Tents
Check out this exclusive list of football-inspired promotional items to take your sports marketing campaign to the next level. Pro Tip: Boost engagement by organizing giveaways or competitions with these popular football promotional items. Now that you know the top football promotional items, you can make informed choices for your next marketing strategy.
How to Choose the Right Football Promotional Item
Choosing the right football promotional item? Careful consideration is key! Here are six points to help you decide:
Target Audience: Who's your target audience? Choose an item they'll like. For example, young football fans? Mini footballs or keychains?
Branding: An item that shows off your brand. Look for ways to include your logo. Make it stand out.
Practicality: Will recipients find it useful? Water bottles or drawstring bags?
Durability: High-quality items are best. Recipients use them longer, increasing brand exposure.
Budget: Set a budget and stick to it. Look for cost-effective options. Consider buying in bulk.
Timeliness: Relevant to the occasion? Give away branded foam fingers or jerseys.
Personalization makes items special. Add individual names or custom messages.
Pro Tip: Get feedback from potential recipients. Do market research to ensure your chosen item fits their preferences and needs.
Case Studies: Successful Football Promotional Campaigns
Football promotional campaigns are a surefire way to captivate audiences and boost brand awareness. Let's explore some of the most successful campaigns!
SportsGear's Kick-Off Madness targeted football fans with exclusive limited edition merchandise. It worked – their sales rose by 20%.
SnackCo's Goal Celebration saw them sponsor halftime entertainment, and they gained recognition among game attendees.
Energy Drink's Fanatics Unite campaign used social media contests and giveaways to engage team supporters. This created an excitement among fans, and a surge in online buzz.
Don't miss out! Embrace football promotions and outshine your competitors. Start planning your successful campaign now!
Conclusion
Football promotional items: the perfect way to stir up team spirit! Customized jerseys, branded accessories, and a special sense of belonging. Plus, they are great for marketing. Spread the message and increase brand recognition. And don't forget to use them as incentives for loyal fans. Even use them as prizes in contests and giveaways. Don't miss out on this chance to boost your team's popularity and connect with your audience through awesome merchandise!
Frequently Asked Questions
Q: What are football promotional items?
A: Football promotional items are merchandise or products that are specifically designed to promote or advertise football teams, events, or organizations. These items usually bear the logos, colors, or slogans associated with football teams and are used to create brand awareness and support for the sport.
Q: What types of football promotional items are available?
A: There is a wide range of football promotional items available, including clothing and apparel such as jerseys, t-shirts, caps, scarves, and socks. Other popular items include keychains, badges, stickers, mugs, water bottles, flags, pennants, and mini footballs. Additionally, there are customized items like branded footballs, team banners, and promotional giveaways.
Q: Who uses football promotional items?
A: Football promotional items are used by various stakeholders in the football industry. This includes professional football teams, amateur clubs, sports retailers, sponsors, fans, event organizers, and sports marketing agencies. These items are used to promote teams, events, fundraising campaigns, fan engagement, and brand visibility.
Q: How can football promotional items benefit a team or organization?
A: Football promotional items can benefit a team or organization in several ways. They help in building team identity and boosting team spirit among players and fans. These items also serve as effective marketing tools to increase brand recognition, attract sponsors, and generate revenue through merchandise sales. Additionally, they enhance fan engagement and loyalty, creating a sense of community around the team.
Q: Can football promotional items be customized with a team's logo or design?
A: Yes, most football promotional items can be customized with a team's logo, design, or specific branding elements. This allows teams and organizations to create unique and personalized merchandise that represents their identity and supports their marketing initiatives. Customization options may vary depending on the type of item and supplier.
Q: Where can one purchase football promotional items?
A: Football promotional items can be purchased from various sources. Official team stores or websites often offer a range of merchandise options. Sports retailers, both physical and online, also stock football promotional items. Additionally, specialized suppliers and manufacturers of promotional products can be found, which offer customization services for creating bespoke football promotional items.
Wanda Banks Green is the owner of Zag Branding Solutions, a full-service branding agency, specializing in promotional products, corporate gifts, and branded apparel.