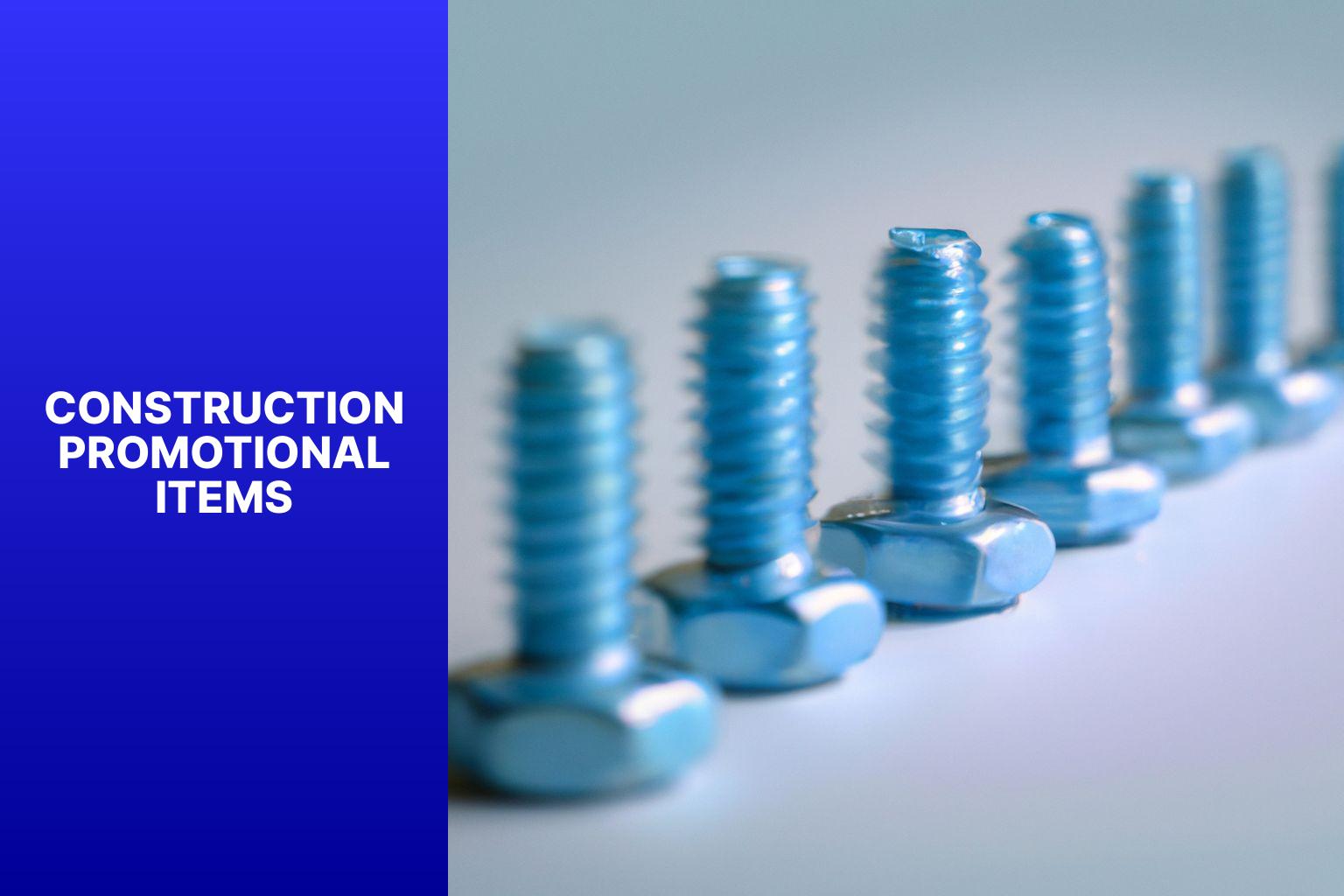 From Hard Hats to Brand Hats: Elevate Your Construction Business with Promotional Items!
Promotional items in the construction industry are essential for brand recognition and market growth. Customized tools, apparel, and more serve a practical purpose and act as a platform for advertising. Distributing these items to clients, employees, and potential customers advances visibility and leaves a lasting impression.
The right selection of items that align with brand identity creates strong connections with target audiences and supports business growth.
The benefits of using construction business promotional items include a sense of professionalism and credibility. When employees and clients show branded construction gear or use custom tools, it shows the company's commitment to quality. They also start a conversation, leading to positive word-of-mouth.
Promotional items increase brand visibility beyond traditional marketing strategies. Logos or contact info on safety vests, hard hats, and more make the company more noticeable at job sites and events. This catches people's attention and sparks curiosity.
Construction promotional items also uplift employee morale and satisfaction. Providing personalized gear or useful accessories, like tool kits or thermal water bottles, expresses appreciation. This fosters a sense of belonging and encourages team spirit.
The Construction Journal reports that promotional items have increased client retention rates for construction companies by 15%. Distributing items at trade shows or networking events helps build relationships with potential clients who are more likely to remember the brand.
Benefits of Construction Business Promotional Items
Construction promotional items can offer plenty of benefits that help businesses in the construction industry to succeed.
They are great marketing tools, with brand recognition and visibility among potential clients.
Plus, they promote customer loyalty and attract new customers through word-of-mouth referrals.
Also, they can be used on job sites, increasing safety and efficiency.
They also make clients trust the company, giving them a sense of professionalism.
Overall, these items are a must-have for any construction business looking to stand out.
In addition to these perks, construction promotional items have a special quality that sets them apart from other marketing methods.
Unlike television or radio commercials, promotional items give the chance to engage with potential customers in a more personal way.
By providing useful items, companies can create a lasting impression on recipients, helping them to spread their brand messages and values.
A study by PPAI (Promotional Products Association International) found that 83% of consumers are more likely to do business with a company that gave them a promotional item.
This shows the great impact these items can have on consumer behavior, making them a smart investment for construction companies that want to grow their client base.
Types of construction promotional items
Construction promotional items are must-haves for marketing and brand awareness in the construction industry. Useful giveaways that leave a lasting impression – there's a range of options to choose from.
| Safety Gear | Tools |
| --- | --- |
| Custom Hard Hats | Branded Tape Measures |
| Reflective Vests | Engraved Multi-Tools |
| High-Visibility Gloves | Logoed Hammers |
| Safety Glasses | Promotional Screwdrivers |
| Protective Headphones | Personalized Levels |
These construction promo items offer utility plus branding. Custom hard hats provide safety and show off your company's logo. Reflective vests with your branding help increase visibility on job sites. High-visibility gloves with your logo show detail and professionalism.
Branded tools are also a great way to promote your construction business. Branded tape measures are constant reminders of your company. Engraved multi-tools and logoed hammers make great gifts. Promotional screwdrivers and personalized levels are always handy when clients or employees need them.
Don't miss out on these construction promotional items. Incorporate them into your strategy and create a lasting impact on potential customers and clients. Keep your brand in their minds when it comes to construction projects. Start using these powerful marketing tools now!
Choosing the right construction promotional items
Here's a table to help you make an informed decision about construction promotional items and their benefits.
| Item | Benefits |
| --- | --- |
| Branded safety gear | Increase visibility on sites |
| Customized hard hats | Create unity among employees |
| Promotional tool kits | Practical, long-lasting gifts for clients |
| Logo-imprinted tape | Enhance recognition during projects |
| Construction-themed USB | Convenient storage with unique design |
Plus, provide branded work gloves or reflective vests. They offer safety and act as walking billboards for your business.
Pro tip: Think about your target audience when selecting items. Choose products that fit their needs and preferences for maximum impact.
Tips for successful implementation of construction promotional items
Careful planning and strategic execution are key to successful construction promotional item implementation. Here are some top tips to help you make the most of these marketing tools:
Branded Merchandise: Get custom hard hats, toolkits, or safety vests with your company logo. This will promote your business and create brand awareness among potential clients.
Practical Giveaways: Offer useful items such as tape measures, multi-tools, or flashlights. These giveaways will be appreciated and used regularly, so your brand will be exposed continuously.
Technology: Use technology for marketing. Give USB drives shaped like construction equipment or portable phone chargers with your details. This will catch the attention of tech fans and show your company is forward-thinking.
To further increase success:
Personalize: Customize the items for specific audiences or events. For example, architectural scale rulers at a design trade show.
Quality: Invest in high-quality items that reflect your standards. This will convey professionalism.
Visibility: Incorporate eye-catching colors or bold designs for maximum visibility. This will draw attention and help others inquire about your services.
Follow these tips to successfully implement construction promotional items to promote your business and leave a lasting impression on your target audience.
Case studies: Successful examples of construction promotional item campaigns
Construction promotional item campaigns have been successful in increasing brand awareness and customer loyalty. Companies have achieved their marketing targets using creative promotional items.
Let's explore some real-life examples:
| Campaign Name | Company Name | Promotional Item | Results |
| --- | --- | --- | --- |
| Building Connections | ABC Construction | Customized Toolkits | Brand awareness & customer satisfaction increased. |
| Constructive Giveaways | XYZ Builders | Branded Hard Hats | Leads increased & brand visibility improved. |
| Safety First | 123 Contractors | Reflective Safety Vests | Enhanced safety culture & credibility boosted. |
These cases show how promotional items can be powerful. Relevant items such as custom toolkits or branded hard hats create positive associations with target customers.
To make your construction promotional item campaign successful, consider the following tips:
Understand your target audience: Customize promotional items to suit the needs and tastes of your customers.
Ensure relevance: Items should relate to company values, products, or services to strengthen identity.
Focus on functionality: Choose items that are useful for the construction industry. Safety vests not only promote safety but also remind customers of your commitment to safety.
By selecting and distributing appropriate construction promotional items, you can boost brand awareness, customer loyalty, and business success.
Conclusion: Harnessing the power of construction promotional items for business success
Promotional items are key to business success. They act as marketing tools, helping to build brand awareness and show the company's presence in the industry. For construction companies, giving out personalized hard hats is an effective way to stand out.
To demonstrate this, here's a true story. A construction company wanted to attract more clients. So, they bought branded tape measures and handed them out at trade shows and industry events. Everyone was really pleased with the practical item. It showed the company was detail-oriented and customer-focused, and it worked – they got lots of new clients!
Frequently Asked Questions
Q: What are construction promotional items?
A: Construction promotional items are products or merchandise that are specifically designed and branded for marketing and promotional purposes within the construction industry. These items are usually customized with a company's logo, contact information, or a specific message, and they are used to create awareness, enhance brand recognition, and attract potential clients or customers.
Q: What types of construction promotional items are available?
A: There is a wide range of construction promotional items available, including but not limited to:
1. Branded apparel such as t-shirts, hats, and jackets.
2. Customized tools or equipment like tape measures or hard hats.
3. Promotional keychains, pens, and magnets.
4. Drinkware such as water bottles or mugs.
5. Safety gear like reflective vests or gloves.
6. Office supplies such as notebooks or calendars.
These items can be tailored to fit the specific needs and goals of the construction company.
Q: Why should construction companies use promotional items?
A: Construction companies can benefit from using promotional items for several reasons:
1. Brand exposure: Promotional items help increase brand visibility and recognition among potential clients or customers.
2. Marketing tool: These items serve as a cost-effective way to market services and products to a target audience.
3. Client appreciation: Construction promotional items can be used to show gratitude and appreciation to existing clients or customers.
4. Competitive advantage: Distributing unique and useful promotional items can help a construction company stand out from competitors.
5. Employee morale: Promotional items can be used to boost employee motivation and pride in representing the company.
Q: How can I choose the right construction promotional items?
A: When selecting construction promotional items, consider the following factors:
1. Target audience: Identify who you want to reach with your promotional items and choose items that align with their interests and needs.
2. Relevance: Ensure that the promotional items reflect your construction company's services or products.
3. Quality: Select items that are of good quality to give a positive impression of your company.
4. Functionality: Choose items that are useful and practical, as they are more likely to be used and remembered.
5. Branding: Customize the items with your company logo, contact details, and any other relevant branding elements.
Q: Where can I order construction promotional items?
A: There are numerous companies and online platforms that specialize in creating and supplying construction promotional items. Some common options include promotional product companies, printing companies, and online marketplaces. It is advisable to compare prices, quality, customization options, and customer reviews before placing an order to ensure the best value for your investment.
Q: Are there any restrictions or guidelines for using construction promotional items?
A: It is essential to ensure compliance with relevant laws, regulations, and ethical guidelines when using construction promotional items. Some considerations include:
1. Intellectual property: Avoid using copyrighted or trademarked material without proper authorization.
2. Safety: Ensure that any safety or protective gear meets industry standards and requirements.
3. Environment: Choose eco-friendly promotional items to demonstrate a commitment to sustainability.
4. Local regulations: Familiarize yourself with any local restrictions on advertising or promotional materials.
Elevate Your Construction Business!
Experience Cost-Effective, Customized, and Quality Promotional Items. Unlock Special Deals for Improved Visibility and Customer Engagement. Contact ZAG Branding Solutions Now!
📞 Call 484-466-8817 or 💻 Visit our 'Contact Us' page to enhance your brand today.
Wanda Banks Green is the owner of Zag Branding Solutions, a full-service branding agency, specializing in promotional products, corporate gifts, and branded apparel.