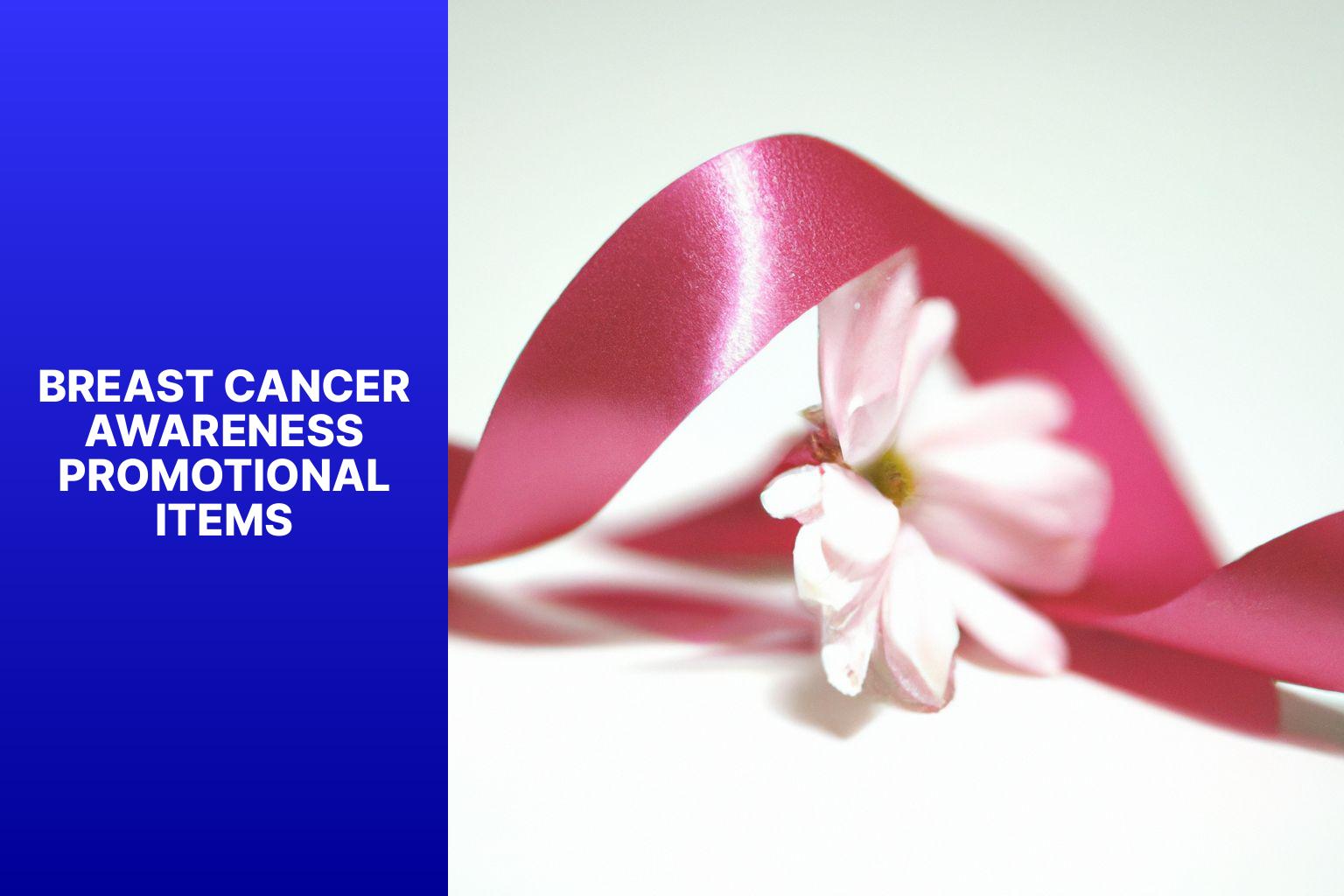 Breast cancer awareness promotional items are key for spreading awareness and supporting the cause. They raise funds for research and treatment and also act as symbols of unity. Wearing or displaying these items can demonstrate solidarity and start conversations about early detection and treatment.
These items come in many forms, like T-shirts, bracelets, keychains, and water bottles. Each one has the iconic pink ribbon – the symbol of breast cancer awareness. Not only are they fashionable, but they also act as reminders to take precautionary steps.
Breast cancer awareness promotional items offer the chance to personalize messages of hope and encouragement. Organizations provide customization options, enabling individuals to add names, quotes, or special dates to their chosen items. This adds a deeper connection between the wearer and the cause and strengthens the impact of these promotional items.
The Pink Ribbon's journey started in 1991 with the Susan G. Komen Foundation. Since then, it has become a symbol of strength and solidarity for those affected by breast cancer. More and more people join the fight against this disease, increasing the popularity of these promotional items.
Importance of Breast Cancer Awareness
Raising awareness of breast cancer is key to promoting early detection and saving lives. Knowing the importance of self-examinations, regular screenings, and risk factors gives people the power to take care of their own breast health.
Also, breast cancer awareness reminds women to schedule mammograms and check-ups. Items like ribbons, t-shirts, and bracelets help spread the message and create unity among those suffering from the disease.
These items can be conversation starters, reminding people to get screened and seek medical help if anything is off.
It's worth noting that breast cancer is the most common cancer among women globally. The World Health Organization (WHO) estimates that over 2 million new cases were diagnosed in 2020. These numbers highlight the importance of raising awareness to emphasize early detection initiatives.
Overview of Breast Cancer Awareness Promotional Items
Breast cancer awareness promotional items are key in spreading awareness and supporting the cause. They symbolize solidarity and prompt people to prioritize their breast health. They also start conversations about early detection and treatment options.
Popular items include:
Pink Ribbon Lapel Pin: Small enamel pin on clothes or accessories.
Awareness Bracelet: Silicone or beaded, with a pink ribbon charm.
Tote Bag: Reusable bag with a breast cancer design.
Water Bottle: BPA-free bottle with a pink ribbon logo.
Notebook: Journal or notepad with breast cancer themes.
Keychain: Keyring with a pink ribbon emblem.
T-shirt: Cotton shirt with breast cancer-related messages.
Car Decal: Adhesive stickers for vehicles to show support.
Unique promotional products include:
Mini stress balls shaped like breasts.
Pink-themed smartphone grips.
Custom-designed pins to display personal connection to breast cancer.
The Pink Ribbon symbol has a remarkable history. In 1991, Evelyn H. Lauder founded the Breast Cancer Research Foundation and chose pink as its symbol. Susan G. Komen adopted it in 1992 for their Race for the Cure events. Today, the symbol is globally connected to the cause.
Breast cancer awareness promotional items are vital in educating and motivating people to take action against breast cancer. Wearing or using these items shows commitment to the cause and promotes conversations about breast health. Together, we can make a difference in the fight against breast cancer.
Benefits of Using Promotional Items for Breast Cancer Awareness
Promotional items for breast cancer awareness have many advantages. Such as:
Raising visibility – T-shirts, wristbands, and other items with slogans and logos can create a strong presence in the community.
Fostering engagement – Pens and keychains act as reminders and conversation starters.
Encouraging community support – Wearing or using promotional items unites supporters.
Spreading educational info – Materials with facts about prevention and resources for patients.
Raising funds – Selling items results in donations for research and support programs.
Moreover, personalized items let individuals show their unique support. Custom designs let them feel connected to the cause.
Tip: When selecting items, consider the target audience. Choose pieces that look good and match the message and values.
Types of Breast Cancer Awareness Promotional Items
Breast Cancer Awareness Promotional Items are awesome ways to spread knowledge and support the cause. Utilizing these items helps to raise funds and encourage early detection.
Let's look at some of the various Breast Cancer Awareness Promotional Items:
| Item | Purpose |
| --- | --- |
| Pink Ribbon Buttons | Show solidarity & support for survivors & fighters |
| T-shirts | Wearable medium to support awareness |
| Silicone Wristbands | Easily customizable with powerful messages of hope |
| Water Bottles | Practical & eye-catching reminders to stay hydrated and raise awareness |
| Fundraising Kits | Package with promotional materials for events |
Other unique items include tote bags, hats, keychains, and phone cases with pink ribbons or motivating slogans.
Here's a tip: Select Breast Cancer Awareness Promotional Items that fit the target audience's preferences to get more engagement & make more impact.
Tips for Choosing and Using Breast Cancer Awareness Promotional Items
It is vital to spread awareness and support for breast cancer. Here are some helpful tips to help you use promotional items wisely:
Be relevant: Choose items that fit the cause, such as pink ribbons, t-shirts, or wristbands. This will make an impact and spark conversations.
Consider usefulness: Pick items that people can use in their day-to-day lives, like water bottles, pens, or tote bags. Your message will be seen often this way.
Customize with thought: Make sure the design and message on the promotional items are meaningful. Include info about breast cancer prevention, detection, or support resources.
Add a personal touch to your campaigns by using these tips. By focusing on relevancy, usefulness, and customization, you can maximize the impact of your efforts.
Keep in mind that breast cancer affects countless people. According to the American Cancer Society, it's expected that 281,550 new cases of invasive breast cancer will be diagnosed in the U.S. in 2022.
Raising awareness through promotional items helps educate individuals about this disease and encourages them to take action toward prevention and support. Make a difference by following these tips and spreading awareness effectively.
Success Stories and Case Studies
Case studies illustrate how promotional items have effectively spread breast cancer awareness and educated people. Success stories demonstrate the influence of these items in promoting early detection and screenings. It appears that these items have been empowering survivors by offering solidarity and assistance. Reports indicate that campaigns using these items have resulted in more donations to cancer research organizations, advancing treatment.
Innovative promotional strategies from these studies have generated higher engagement from different demographics, removing taboos related to breast health. Unique details from these accounts suggest which types of promotional items appeal to various audiences. For example, personalized items like t-shirts or wristbands allowed people to show their commitment to the cause while initiating conversations about breast cancer.
A nonprofit organization distributed pink ribbon pins to local businesses. Employees wearing these pins sparked conversations among customers about breast health. This gesture triggered a ripple effect in the community, which led to increased screenings and donations for research. Such stories highlight how creative promotional items can motivate people to support this vital cause.
Conclusion
Powerful promotional items for breast cancer awareness can spread education and support. Items like t-shirts, bracelets, and pins make it easy to show support. It unites supporters and sparks conversations. People chat about early detection, treatment options, and the importance of regular check-ups.
Eye-catching, memorable designs are essential. Bright colors and bold fonts draw attention. Powerful messages and quotes make an impact. Practical materials make them comfortable to wear and long-lasting. Variety lets people pick what resonates with them.
How you can get involved in breast cancer awareness efforts
Getting active in breast cancer awareness campaigns is key for the cause and to spread knowledge of this common health issue. Here are some approaches to join in:
Join an organization that focuses on breast cancer awareness. Becoming a member allows you to take part in events and activities to raise awareness and help patients.
Use social media to tell stories, share facts, and provide resources about breast cancer awareness. Ask your friends and followers to get involved, too.
Help out at events and fundraisers held by breast cancer charities. This is a chance to contribute, whether it's managing the event or talking to participants.
Learn more about breast cancer through workshops or webinars from trusted groups. This will help you to give others data about prevention, symptoms, and support.
We all have a part to play in breast cancer awareness. Participating in these efforts can help us fight for early detection, successful treatments, and better outcomes for people with breast cancer.
Pro Tip: Host your own small event or fundraiser in your local area. Bake sales and fitness challenges are great ways to raise awareness. Every effort matters!
Frequently Asked Questions
Q: What are breast cancer awareness promotional items?
A: Breast cancer awareness promotional items are merchandise or products that are designed and distributed to raise awareness about breast cancer, support those affected by the disease, and promote early detection and prevention.
Q: What types of breast cancer awareness promotional items are available?
A: There is a wide range of breast cancer awareness promotional items available, including pink ribbons, bracelets, pins, t-shirts, hats, water bottles, tote bags, keychains, and more. These items are often designed with the pink ribbon symbol, which is internationally recognized as a symbol for breast cancer awareness.
Q: How can breast cancer awareness promotional items be used?
A: Breast cancer awareness promotional items can be used in various ways. They can be given away at fundraising events, distributed at health fairs, used as giveaways at corporate functions, sold as merchandise to raise funds for research and support programs, or simply worn or used by individuals to show their support for breast cancer awareness.
Q: Where can I purchase breast cancer awareness promotional items?
A: Breast cancer awareness promotional items can be purchased from various sources. They are available online through dedicated websites, on e-commerce platforms, or through organizations that specialize in breast cancer awareness merchandise. Additionally, local stores, boutiques, and community events may also carry these items.
Q: How can breast cancer awareness promotional items make a difference?
A: Breast cancer awareness promotional items play a crucial role in raising awareness about the disease and its early detection. By wearing or using these items, individuals can spark conversations, educate others, and motivate people to prioritize their breast health. The funds generated from selling these items also contribute to research efforts, support services, and advocacy programs.
Q: Are breast cancer awareness promotional items only for fundraising purposes?
A: While breast cancer awareness promotional items are commonly used for fundraising purposes, they serve a broader purpose. These items promote education about breast cancer, encourage regular screenings, extend emotional support to patients and survivors, and help reduce the stigma surrounding the disease. They also serve as symbols of solidarity and hope for those affected by breast cancer.
Make a Meaningful Impact!
Discover Personalized and High-Quality Customized Gift Items that Raise Breast Cancer Awareness. Join Us in Supporting the Cause. Contact ZAG Branding Solutions Today!
📞 Call us at 484-466-8817 or 💻 Visit our 'Contact Us' page to start making a difference through customized gifts.
Wanda Banks Green is the owner of Zag Branding Solutions, a full-service branding agency, specializing in promotional products, corporate gifts, and branded apparel.