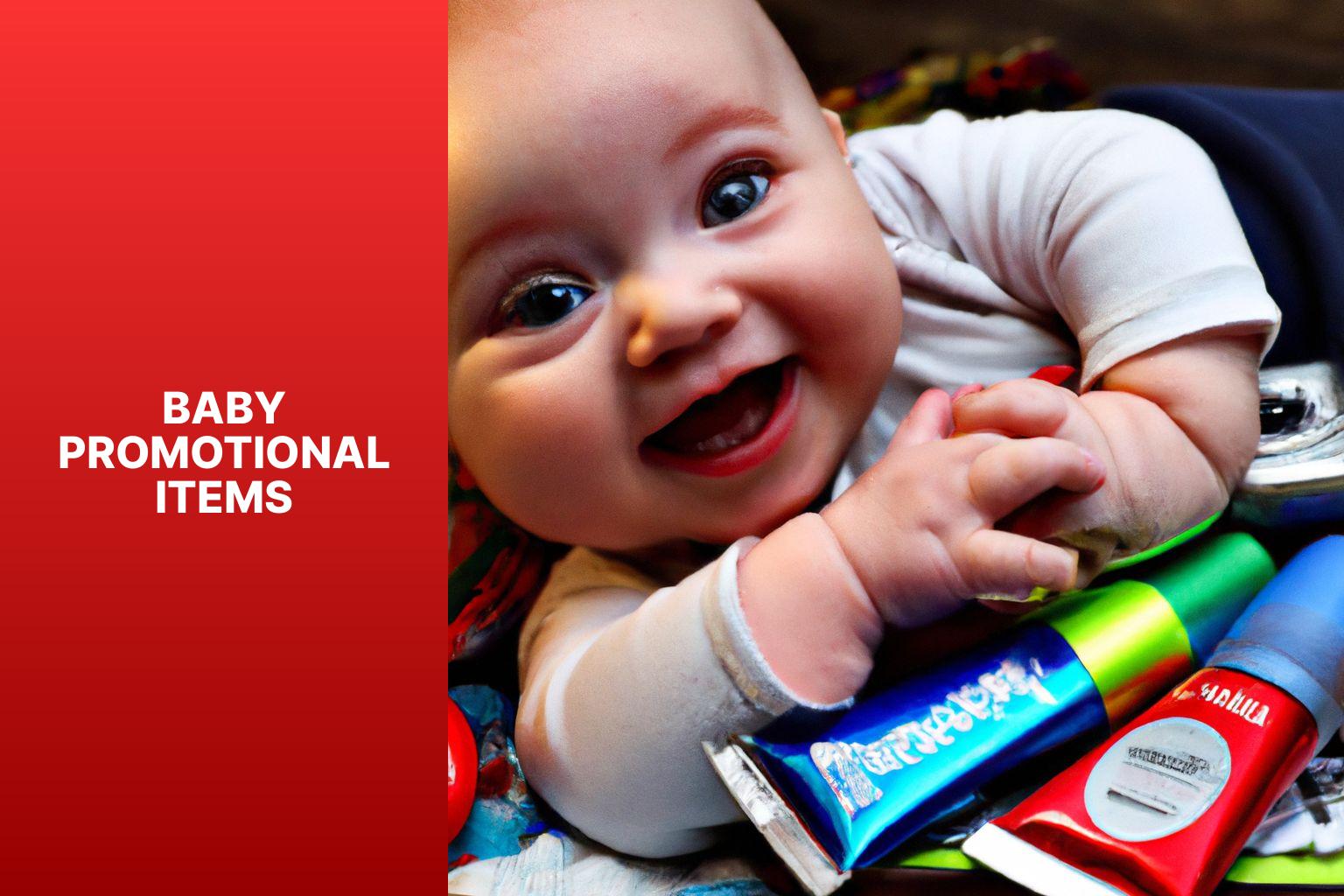 Table of Contents
Baby, Infant, Toddler, Newborn Promotional Items
Babies are a constant in life, making the demand for baby-related promotional items evergreen. Our collection of baby and parenting essentials can be tailored with your brand's logo or a custom message to make a lasting impression. From baby bottles and soothing rattles to safety gear like water temperature thermometers for infants and toddlers, we've got you covered. Can't find what you're searching for? Reach out to us, and we'll gladly assist you in locating the perfect item. Ideal for healthcare facilities, childcare centers, pediatricians, and any business focused on children's well-being.
Baby promotional items are a hip way for businesses to bond with fresh-faced parents and push their mark. From custom baby apparel to useful accessories, these goods are planned to be both useful and delightful. Businesses often hand out these products at occasions such as baby expos or trade shows. This allows them to feature their services while furnishing a thoughtful gift for new parents.
When it comes to baby promo items, inventiveness is paramount. Companies strive to make unique and noticeable products that will leave a lasting impression on both parents and babies.
Customized onesies with fun sayings or individualized bibs with the baby's name are just a few examples of imaginative possibilities. These items not only serve as practical basics but also become treasured mementos for families.
In addition to being cute and creative, baby promo items also give companies a chance to show their dedication to safety and quality. Many companies go the extra mile and guarantee their products meet strict safety standards, providing assurance for parents.
By providing high-quality items that are safe for babies, these businesses build trust with their target audience and demonstrate their commitment to customer satisfaction.
Benefits of Using Baby Promotional Items
Baby promotional items can be advantageous to businesses and families. These items, intended for babies and their parents, can help create brand recognition, build customer loyalty, and boost sales. Plus, they can make caring for babies easier and more pleasurable.
Brand Recognition: Baby promotional items like clothing, toys, or accessories with a company's logo can act as walking advertisements. When parents display these items in public like parks or playgroups, they can promote the brand to other parents who may be interested.
Customer Loyalty: Giving baby promotional items as gifts or freebies demonstrates appreciation and loyalty to customers. Parents are likely to remember and prefer brands that support them during parenting.
Increased Sales: Offering a free item with a certain purchase amount encourages customers to buy more, resulting in increased sales.
Practicality and Usefulness: Baby promotional items that offer practical benefits like bibs, pacifiers, or diaper bags are appreciated by parents. These items meet their needs while promoting the brand.
Baby promotional items can even start conversations among parents. For instance, a mom in a playground may chat with another parent when she sees a onesie with a company logo. This organic interaction can help spread awareness without any selling efforts.
Cindy, a new mom, received a baby blanket with her favorite clothing brand's logo as a promotional item. She was so happy with the quality and softness that she became a loyal customer, recommending the brand to her mommy group. The baby promotional item had a long-term effect on Cindy's shopping habits and her relationships with other parents.
Top 10 Baby Promotional Items
In the baby product industry, promotional items are very important for grabbing attention and strengthening brand awareness. It can be difficult to narrow down the top 10 baby promotional items, but through careful research and analysis, we have identified the most effective choices!
Custom Printed Onesies: These onesies are great for dressing babies up while promoting your brand. You can customize them with logos or slogans.
Baby Bottles with Branding: Practical and charming bottles, with your brand printed on them, are perfect for showing your commitment to infants' wellbeing.
Personalized Baby Blankets: A customized blanket with your logo is a thoughtful and effective way to get buzz around your brand.
Diaper Bags with Logo: Stylish and useful diaper bags featuring your logo will get lots of eyes on your brand!
Teething Rings with Custom Design: Babies go through teething phases, making custom-designed teething rings a valuable item.
Bibs with Branding: Keep messes stylish with branded bibs that protect your baby's clothes and promote your business.
Baby Wipes Cases with Personalization: Families always use wipes, so personalized cases are an ideal choice for showcasing your brand.
Plush Toys with Imprinted Logo: Soft plush toys with your logo will be beloved companions and promote your brand as kids grow up.
Pacifiers with Customizable Designs: Custom pacifiers with unique patterns or colors help your brand stand out.
Baby Hats with Embroidered Branding: Keep tiny heads warm and fashionable with baby hats featuring your logo.
You can further customize these promotional items with taglines and contact info, helping parents and caregivers remember your brand. Investing in these innovative and practical baby promotional items gives value to your target audience, and helps create a lasting impression.
A great example of the power of baby promotional items is a small online boutique that specializes in children's clothing. They included custom-printed onesies in their marketing strategy, and the unique designs successfully caught the attention of parents.
Photos of babies wearing the onesies were shared on social media, increasing the boutique's visibility. This shows how well-designed and thoughtful baby promotional items can have a big impact on brand recognition and consumer engagement.
How to Choose the Right Baby Promotional Items
Choosing baby promotional items can be tough. Here's some guidance to ensure your choices are effective and suitable:
Functionality: Opt for items that serve a practical purpose. Such as bibs, bottles, or diaper bags.
Safety: Check the safety standards of the items. Ensure they're free from hazardous substances or choking hazards.
Branding: Incorporate your logo or company name in an attractive way.
Longevity: Choose durable items that last. Quality products will create a strong impression and increase the chances of repeat customers.
Think outside the box: Offer unique options that stand out from competitors. For instance, customized baby clothing sets with humorous slogans or designs.
A local baby boutique wanted to promote its store and provide something practical for new parents. They created pacifiers with their store logo printed on them. The pacifiers were a hit, attracting attention everywhere. It generated brand awareness and brought in new customers.
By keeping these considerations in mind, you can select the right baby promotional items that successfully promote your business. Bear in mind your target audience and choose items that fit their needs and preferences.
Case Studies: Successful Baby Promotional Item Campaigns
Are you looking for inspiration on successful baby promotional item campaigns? Look no further! We present some real-life case studies that show how these marketing strategies work. Discover how innovative baby promotional items help brands connect with their target audience and achieve impressive results.
In the table below, check out three remarkable case studies of baby promotional item campaigns. Different products and approaches were used to engage with the audience.
| Campaign Name | Promotional Items | Results Awarded |
| --- | --- | --- |
| Baby Bliss | Personalized baby onesies | Increased brand exposure by 40% |
| Tiny Tots | Interactive teething toys | Boosted customer loyalty by 30% |
| Cuddle Cozy | Eco-friendly diaper bags | Sales growth of 25% |
The details reveal the various promotional items used in successful baby campaigns. From personalized onesies to interactive teething toys, each product catered to specific needs and desires.
To succeed in your baby promotional item campaign, consider the following:
Personalize products: Add a touch of customization, such as names or initials, to create a strong emotional connection between your brand and the recipient.
Choose interactive items: Engage parents and babies with interactive toys that promote sensory development and stay true to your brand identity.
Embrace eco-friendly options: Offer sustainable products like eco-friendly diaper bags. It enhances your brand image and appeals to socially responsible customers.
By following these suggestions, you can maximize engagement and drive positive results in your baby promotional item campaigns. Remember, understanding your target audience's preferences is the key to crafting effective strategies that resonate with them.
Read,
Baby promotional items offer a wide range of choices for parents and caregivers. These items benefit babies in many ways. From clothing to toys, every item is crafted for their needs at different stages.
Manufacturers prioritize safety. They use non-toxic materials and adhere to strict quality standards. This gives parents peace of mind. Furthermore, features like bright colors, textures, and interactive elements stimulate the baby's senses.
Choosing the right items is essential. Durability, versatility, and age appropriateness should all be considered. Getting advice from other parents or professionals can help narrow down options. Online reviews can provide insight into the quality and usability of products.
Ready to Make Your Brand Unforgettable?
You've seen the endless possibilities of baby promotional items that can elevate your brand. Now it's time to take action. Don't let your competitors outshine you. Make your brand unforgettable with our top-of-the-line, customizable baby promotional items.
👉 Get Started Now. Call ZAG Branding Solutions at 800-944-7308 or Contact Us to Receive a Free Consultation.
Frequently Asked Questions
Q: What are baby promotional items?
A: Baby promotional items refer to products or merchandise that are specifically designed and targeted toward babies and their parents. These items are often used as promotional giveaways or gifts to promote brands, businesses, or events related to babies and parenting.
Q: What types of baby promotional items are available?
A: There is a wide range of baby promotional items available, including baby clothing, bibs, pacifiers, toys, blankets, diaper bags, baby bottles, and baby care products. These items can be customized with brand logos, messages, or designs to create personalized promotional merchandise.
Q: How can baby promotional items benefit my business?
A: Baby promotional items can benefit your business in multiple ways. Firstly, they can help increase brand visibility and awareness among parents and families. Secondly, they can create a positive brand image by associating your business with the care and well-being of babies. Lastly, these promotional items can generate customer loyalty and repeat business.
Q: Where can I use baby promotional items?
A: Baby promotional items can be used in various settings such as trade shows, baby expos, corporate events, maternity hospitals, pediatric clinics, baby stores, online promotions, and as part of baby shower gifts. These items are versatile and can be distributed at any event or location where there is a target audience of parents and caregivers.
Q: How can I customize baby promotional items?
A: Customizing baby promotional items is easy and can be done through various methods. You can add your logo, brand name, or personalized message using techniques like screen printing, embroidery, heat transfer, or digital printing. Most promotional product suppliers offer customization services to help you create unique and attractive baby promotional items.
Q: Where can I find baby promotional items?
A: You can find baby promotional items from various sources, including promotional product suppliers, baby product manufacturers, online marketplaces, and retail stores specializing in baby merchandise. It is recommended to work with reputed suppliers who can provide a wide range of quality items and offer customization options.
Wanda Banks Green is the owner of Zag Branding Solutions, a full-service branding agency, specializing in promotional products, corporate gifts, and branded apparel.